The best lactation performance by dairy cows has been shown to occur when corn silage is harvested at 65-70 percent moisture. This range of whole plant moisture also works well for achieving good packing and silage fermentation in horizontal silos, or bunker and piles. Determining whole plant moisture prior to harvest is one management practice to ensure high-quality forages.
Extension Dairy & Livestock Agent Tina Kohlman conducted a field survey project in collaboration with the Fond du Lac County Forage Council this month to better understand the growth and maturity of corn silage crop. Results from this project helped farmers to determine the optimal time to harvest corn silage based on whole plant moisture to ensure proper ensiling of and quality corn silage for the dairy herd, thus reducing purchased feed costs for their dairy operation.  Over a three-week time frame, 213 samples were chopped and submitted for moisture analysis to determine optimal corn silage harvest based on whole plant moisture, relative maturity, and hybrid.  The results also helped farmers determine who fast the corn silage crop was drying to anticipate when to harvest at the optimal moisture.
UW Madison Extension Fond du Lac County in collaboration with the Fond du Lac County Forage Council and financial support from numerous local seed dealers made this project possible.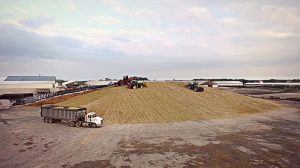 Corn silage packing and storing (Photo credit A. Bjurstrom)