Fond du Lac County 4-H Events
February 24, 2024 Learn a new skill or gain fresh ideas. It will be a fun, informative day. Parents are encouraged to spend the day with their child and help them find their sessions.
When: Monday, June 19, 2023
All 4-H members in the Clothing, Crocheting, Knitting, Cloverbud, Consumer Savvy, and Exploring projects are invited to participate in the upcoming statewide Fashion Revue. Registration will be open in 4HOnline May 1-May 31.
Where: Extension Winnebago County, James P. Coughlin Center, 625 E. County Road Y (Sunnyview Rd.)
Schedule:
5:30 pm Check-in
6:00 pm Fashion Revue begins
Foods Revue – Say Cheese!
When: Tuesday, June 20, 2023
Where: Marian University Stayer Center, 45 S. National Ave., FdL
Schedule:
5:00 – 6:00 pm check-in and set up
6:00 – 7:30 pm Judging and Awards
7:30 – Taste of Fond du Lac 4-H
Age Groups:
1. Cloverbud – Grades K-2
2. Grades 3-5
3. Grades 6-8
4. Grades 9-13
A little information on the Foods Revue for members: The youth will make a food item from the category listed below using the cheese theme. Youth will set one place setting, to include a recipe card for the item made, placemat or tablecloth, and centerpiece.
Categories: Appetizer, Soup, Salad, Entrée, Dessert, Challenge Dish Ingredients: cheese, bacon, broccoli, & eggs.
Rules:
1. DO NOT bring Food Revue entries to the fair.
2. Any member can make one food entry, one photography entry, and one centerpiece entry in the Foods Revue.
3. Open to ALL youth in our community and 4-H members enrolled in any project.
4. Foods Revue displays shall consist of the food(s), the recipe on a 3"x 5" or 4" x 6" card, a place setting, a placemat or tablecloth, and a centerpiece.
5. Each participant is expected to answer questions pertaining to the project work.
6. Participants may use 4-H project books, favorite family recipes, or recipes from other sources.
7. Garnishes are acceptable and encouraged for all entries.
8. Cloverbuds will receive ribbons; all others will receive premiums and ribbons. Premiums will be on your fair checks that are distributed after the fair. Additional prizes may be also presented as determined by the Foods Revue Committee. Remember to enter this item when you do your online fair entry.
9. All entries must follow the 2023 theme and contain cheese in the recipe.
10. All participants are asked to bring at least 25 sample-size portions of their recipe to serve during the Taste of Fond du Lac 4-H portion of the evening. Covers will be available if participants want to take samples home.
Cardboard Camp – Zoology
When: August 1-3 from 9 am-12 pm
Where: Extension Fond du Lac County, UWO Fond du Lac Campus, 400 University Dr., Fond du Lac
Cost: $15
Who: Youth grades 3rd-8th
*Camp is limited to 10 youth. If enough interest may possibly open a second camp!
Open to youth in grades 3rd-8th, this 3-day in-person cardboard camp will provide youth an opportunity to be creative. Does your child love animals? This camp youth will focus on creating animals from various materials such as cardboard boxes, paper towel tubes, paper plates, and more. By the end of the week, youth will have created a Zoo diorama they can take home! In addition to learning about the building process, youth will learn about the animals they create! Register through 4HOnline April 15 – July 24.
Cloverbud Day Camp
Wednesday, June 14 – Foodie Camp
Wednesday, June 28 – Superhero Camp
Wednesday, August 16 – Art Camp
$12 per youth/camp or $30 for all three camps
Register through 4HOnline April 15 – June 2. What to bring to Camp: a bagged lunch, sunscreen, bug spray, jacket, and a water bottle in a backpack for the day.
Camp Descriptions:
Foodie Camp – Foodie Camp is a camp for youth to learn different cooking and baking skills. Youth will try different recipes and compile a recipe book at the end of camp. Each day youth will have the chance to practice different skills while cooking in the kitchen.
Superheroes in our Community – Be a superhero for the day at Superheroes in our Community. Campers are encouraged to dress like their favorite superheroes! Youth will learn about different superheroes in the Fond du Lac County Community. The day will consist of various guest speakers such as police officers, firefighters, teachers, farmers, etc. Youth will participate in an obstacle course, learn about the superpowers of the community superheroes, and create their own superheroes at camp!
Art Camp – If your camper loves making a colorful mess, then this is the camp for them! Your artist will love to get their hands dirty by painting, creating, and molding new projects each day. Art is one of the largest projects in 4-H, so youth will get a taste of what they can sign up for under the arts project. Examples of projects may include painting, simple woodworking, drawing, tie dye, etc.
Art Day Camp
Where: UWO Fond du Lac Campus
When: Monday, August 7 – Wednesday, August 9, 9 am-3 pm
Who: Youth grades 3rd – 8th
Cost: $12/day or $30 for all 3. Register through 4-H Online under events starting April 15. Registration closes July 24. Must have a minimum of 5 participants. Camp is limited to 10 participants. We will start a waitlist if we fill up.
Description:
Monday, August 7 Art-Rageous – Calling all youth artists! From clay to oil pastels and everything in between, youth will explore art by channeling their creativity while learning about different artists, techniques, and medias.
Tuesday, August 8 Picturesque Painting – Youth will explore all things paint this day. Activities will include watercolor, paint pouring, and acrylic painting. Bring your paint clothes and creative minds and we will supply the rest!
Wednesday, August 9 Phenomenal Photography – Learn about how to use your camera and what settings and features to use for what settings and situations. Youth will also learn about selecting photos, mounting, and other tips and tricks. Youth will practice taking pictures this day. (Recommendation: youth bring their own cameras if possible).
August 22-24 I 9:00 am – 3:00 pm
LEGO Camp is a camp for youth to learn different LEGO building skills. The LEGO Club and the project is growing fast. Join us during this camp and get a taste of what LEGO Club is like! Youth will build different creations with LEGO bricks at the office. No need to bring any from home! Youth will also learn about different building and engineering techniques, as well as do some LEGO crafts they can take home! Youth will work as a team to complete a challenge, so let's get building! Grades 2-8 can participate, and grades 9-12 can lead camp. Cost is $30.
Registration closed for 2023.
The 2023 theme is "Local Inspiration." This festival is open to all youth in grades 3-13 from Fond du Lac, Ozaukee and Washington County. Scan/photograph your child's artwork and use this official entry form to submit your entry. All entries must be submitted in 4HOnline by Wednesday, March 1, 2023 by 11:59 p.m. Prizes will be awarded for each category and announced after the festival closes.
Website for this year's entries: https://sites.google.com/wisc.edu/tri-county-youth-visual-arts-/home. We are offering a traveling exhibition opportunity for youth to have their art showcased in the three counties. Selections will be based on youth's permission, space available, and connection to the theme.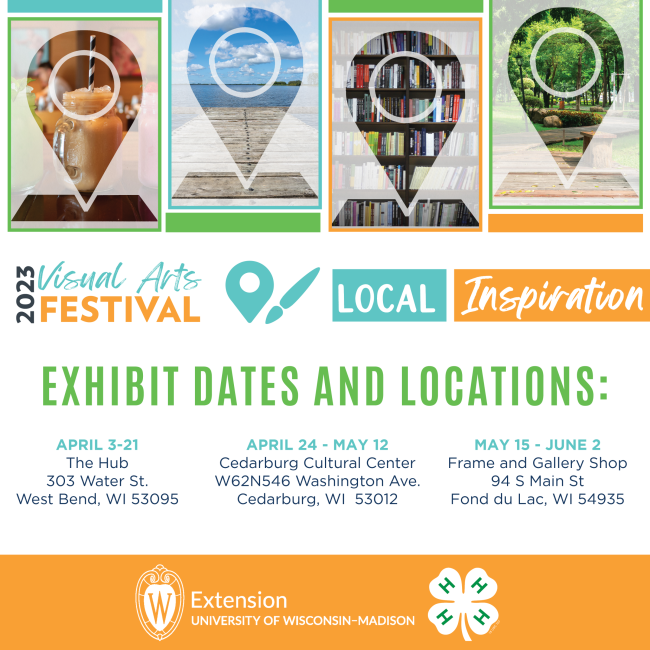 Travel information for these trips: Wisconsin 4-H & Youth Conference, Citizenship Washington Focus, National 4-H Congress, National 4-H Conference, American Spirit Experience and New Horizons.
4-H Adult Leader Food Stand at Fond du Lac County Fair
4-H Teen Leader Food Stand
at Fond du Lac County Fair
4-H Raffle

Raffle Drawing – Wednesday, August 23, 2023
Proceeds support annual countywide 4-H programs
Top Raffle Ticket Sellers

Buwalda Family (Alto All Stars) 347 tickets
Kutz Family (Welcome) 276 tickets
Curtis Family (Rosendale) 248 tickets

4-H Silent Auction

Silent Auction – held during County Fair
Contact Cindy Koffman at koffman@kmoraine.com or (920) 477-5006
Proceeds are invested in 4-H Endowment Fund