Community Garden Updates

– April 2022

Join us at the Community Garden Meeting on May 3, 2022.
6:00 pm in room AE-205/206 at the UWO Fond du Lac Campus, 400 University Drive, Fond du Lac.

We will discuss opening dates and marking the gardens – volunteer to help mark plots! We'll confirm plot numbers, hand out maps, and have some educational materials and free seeds for everyone.

If you cannot attend, please contact Patty Percy at patty.percy@wisc.edu or 920-929-3172.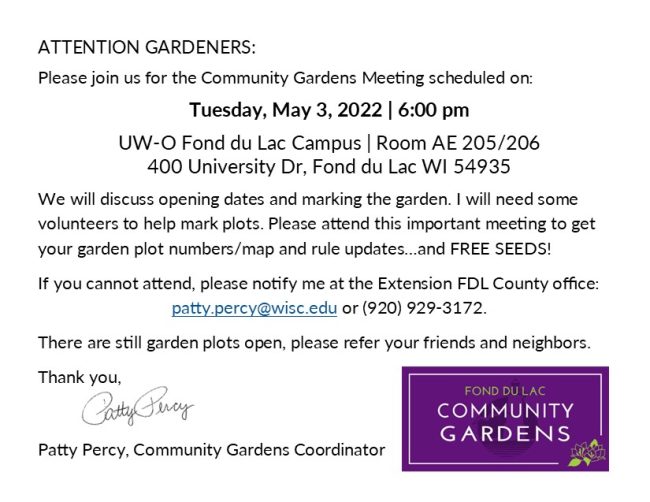 Community Gardens Information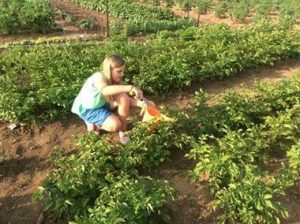 If you are interested in growing your own fresh garden produce but don't have the space where you live, contact Patty Percy, Community Garden coordinator at Extension Fond du Lac County, at 920-929-3172.  Rental fees for the entire 2022 season are:
20'x20′ plot: $20.00 – Only a few plots available for 2022
20'x40′ plot: $35.00
20'x80′ plot: $60.00
The Community Gardens are located on the corner of Grove Street and Pioneer Road (East Frontage Road).
Volunteers who are willing to do some finer tilling in your plots when they are dry enough.
John Zeleske: 920-324-3399
Tom Lewis: 920-979-3810
John Lenz: 920-579-7150
What you receive with the purchase of your garden plot
The county provides the land to rent, liability insurance, and water, which is made available throughout the summer.
Upgraded water lines are maintained.
Grass borders are mowed to prevent rodent habitat.
A Port-a-Potty is provided for your convenience.
Free garden seeds, teaching materials, and advice are provided from mentors in our newsletters.
The garden is tilled in the fall and early spring as soil conditions allow.
The plots get measured, marked, and monitored.
You get lots of fresh, garden produce!
Community Garden English Registration Form with Waiver
Community Garden Spanish Registration Form with Waiver
Community Garden Hmong Registration Form with Waiver
Patty's Notes
I have developed a waiver that will need to be signed before you can garden.
Several people did not follow the rules, so we had to develop this waiver. We fashioned it after what other gardens have done with their disclaimer and liability clause. There are also a few new additions to the Garden Guidelines and Regulations Booklet.
Other arrangements will need to be made to pick up your garden map and rules and sign your waiver, so we can get the season off the ground. Additional Community Garden Notes from Patty found here.
English Community Gardens Guidelines & Regulations
Spanish Community Gardens Guidelines & Regulations
Hmong Community Gardens Guidelines & Regulations
Newsletters (English)
FALL 2021     SUMMER 2021     FALL 2020     SUMMER 2020
FALL 2019     SUMMER 2019     FALL 2018     SUMMER 2018                 
Plant a Victory Garden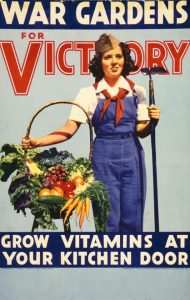 If you're concerned about a shortage of fresh vegetables in your fridge, you might be a prime candidate for the victory garden trend.
Victory gardens first became a thing about a hundred years ago during World War I and again during WW ll. Americans were urged to contribute to the cause by growing vegetables in every flowerpot and patch of land available.
Neighbors grew different vegetables and shared their produce with each other, and according to the U.S. Department of Agriculture, more than 20 million American homes had a victory garden.
No space in your yard? Not enough sun? Fond du Lac County Community Gardens has lots of space where you can sign up to garden; though you'll have to keep social distancing in mind when you enter.
Even with a small plot, homeowners are able to grow large gardens, and these assets can reduce the number of trips to the grocery store.
Planting your own garden is perfect timing right now because the weather is getting better all over the country, and you can even sow some seeds inside and then transplant them to the ground later on.
Patty's Interview
Can you explain some of your best gardening tips to beginners? For example, if you want to list five tips or so, and then explain them, that would be great! Whatever, you think will work. How can people go about building a victory garden during this pandemic?
The term comes from WWll. People were encouraged to grow their own vegetables to reduce the pressure on the public food supply and to boost morale. They were called Victory Gardens. Now, with much of the country under quarantine due to the novel coronavirus that will likely last for several more weeks, people are considering this idea for their families.
Building a victory garden can be as simple as planting containers on your patio or deck.
Many people have a large enough area in the front or back yard to make into a garden. The most important factor is to have an area that receives plenty of sunshine! Just till up the grass, and rake out the roots, or just cover an existing space with layers of paper and add wood chips or mulch, and then layer with soil and compost for a raised bed. Raised beds don't necessarily mean you have to build anything. It can be as simple as laying down several layers of paper, wetting them, and layering with mulch or wood chips. The next step is adding soil and compost, and mound it into a berm. The garden we started at Riverside School was just 6 to 8 inches of mushroom compost spread on the boulevard next to the parking lot. 
 I can supply a list of healthy vegetables that are easy to grow, in the ground or in containers.  Contact me on the Extension Fond du Lac Community Gardens website or email patty.percy@wisc.edu. If you have limited space or don't have any sunny areas in your yard, check out the info on how to get a plot in the Community Gardens!
 In your opinion why would this be a good activity to start?
Gardening is a great activity for young and old. Even if you only have containers and window boxes, it is a great activity to do with the whole family!  Plus it is good therapy! Give the kids their own spot, or container, and have them select what seeds they want to plant from what you have available.  I like a mixture of vegetables and flowers or herbs when I plant containers.  The trick is knowing the basics for container planting, and knowing the growing conditions of the plants you want to use.  
Any questions on best container vegetables, contact me at patty.percy@wisc.edu. 
What would you like people to know about gardening?
Gardening is very good for your health in many different ways…
Gardening can help promote healthy eating, especially if you're putting on the table what you have grown in the ground. 

Digging in the soil has actual health and 'mood boosting' benefits. C

hildren who are exposed to dirt in the formative years develop healthier, stronger immune systems, and they have a lower incidence of asthma, eczema and allergies later in life, compared to children whose parents keep them squeaky clean.

Gardening is considered a moderate to high-intensity exercise.

Just 30 minutes of moderate-level physical activity a few times a week can prevent and control high blood pressure, reducing the risk of heart disease.

People who spend time working with plants, tend to have better relationships with others. Some research shows gardening can also lower the risk of developing dementia. Plus, you'll soak up plenty of vitamin D, which helps the body absorb calcium.
Is there anything you would like to add?
Extension Fond du Lac County has been promoting gardening in our Community Gardens for many years, which are located on the Frontage Road across from the airport. https://fonddulac.extension.wisc.edu/hort/fond-du-lac-county-community-garden/.
We also have a program for kids in the summer months run by Extension staff and Master Gardener volunteers called Junior Master Gardeners. We teach kids how to garden and how to use the produce they grow in the kitchen. More information may be found at https://fonddulac.extension.wisc.edu/hort/jmg/.
Junior Master Gardener Program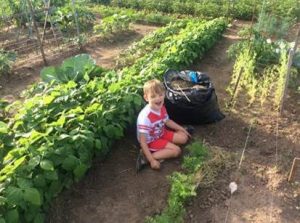 The JMG program is offered by Fond du Lac County Extension. It is a collaboration between the Fond du Lac County Master Gardeners and the FoodWIse Program. FoodWIse is funded by the USDA Supplemental Nutrition Assistance Program – SNAP. SNAP/FoodShare helps families buy the food they need for good health. Visit access.wi.gov to learn how to apply for food assistance or call 1-888-446-1239 (Fond du Lac).