The community gardens are open.
We still have some empty plots to fill. I do not have a date as to when the gardens will be open – it will be later this month.
For those who have copies of the rules, I have printed an addendum sheet. Also, see Quick facts about your garden and the May/June Garden Guide.
NO ONE is allowed to go into the gardens to plant their plots until the stakes are up AND marked with numbers.
Your plot numbers are located on the WEST corner stakes on the outer edge of your plot. If it is not a split plot, the southwest corner will be marked. Your plot will be directly east of the plot marker.
Water will be available when the city turns it on, but please bring your own containers to carry it back to your plot. It will be easier to fill containers/buckets, if they have large openings at the top. Please do not use gallon milk or water jugs.
DO NOT plant in the area next to the roadways outside your garden plots. The mower will be clipping those down. This area must be maintained by each of you to keep weeds down.
DO NOT place rocks on the edges of your plots because the mower will hit them. If you find rocks, please put them in the roadway ruts.
DO NOT plant closer than 2 FEET from the edge between plots. You must leave room to walk around the edges of your gardens. Your neighbor needs to walk into their plots along the edges too.
DO NOT leave garden equipment at the garden plots unattended. The Community Garden is not responsible if anything is stolen.
DO NOT leave behind garden pots, landscape fabric, OR any sticks, wires, twine or string used as plant supports or markers at the end of the season.
PLEASE clean up any garbage in or near your plots and take it home for your garbage pick-up. We do not have any waste areas at the garden. Take it out and put in your trash, we don't have pick-up out there.
PLEASE REMOVE all string and twine from stakes after your plot lines have been established. Many stakes still have twine on them when they are removed at the end of the season. YOU MUST TAKE IT OFF!
GARDEN TILLERS:
JOHN LENZ 920-579-7150
TOM LEWIS 920- 979-3810
Please call or email with any questions to patty.percy@wisc.edu or 920-929-3172. Any information you need about the garden can be found at https://fonddulac.extension.wisc.edu/hort/fdlgarden/.
We have had a great garden season this year! While the weather is still favorable, it is a good time to start your final harvest of produce and clean up your garden site.
This year's garden close date is October 23, 2022. Along with your garden clean-up, please remember to take your garbage home with you. Each gardener is responsible for their own materials and trash. Garbage pick-up is not set up for the Community Gardens.
Please make sure you REMOVE ALL STRING AND TWINE when you remove the marking stakes from your plot. There is an area for the plot marker stakes on the south side of the gardens by the garden shed. Please do not dump other sticks and stakes there; take them home with your other materials and garbage.
We are working on improving our communications with all of you. We appreciate your patience as we improve our website, newsletter, and other educational content.
Summer is well underway and the growing is great! The unused plots have been tilled and planted with cover crops to lessen the weeds. We are providing some great resources about proper watering techniques in the Summer newsletter! Registered Gardeners should have received their copy in the mail. Everyone is able to read it through the link below in the Newsletters section.
It's been noticed that some people are scraping mud off their shoes on the Anthem Blue Cross Blue Shield parking lot pavement. Mud must be scraped off shoes and tools before coming out of the garden. Also, DO NOT drive into the garden from the Anthem parking lot. Anyone who does will not be welcome to use the gardens at all.
Some gardeners have gone around the garden sign when the chains are up in front of the gardens-this is NOT ok. The chains get put up to prevent anyone from driving into the gardens and leaving huge ruts and mud holes. When the chains are up, DO NOT drive into the gardens from any direction or around chains or signs.
It has been brought to my attention that there is a lot of water consumption going on this year. 3,200 gallons in less than a week; and another 2800 in 5 days! We have had so much rain, that there is nothing that is lacking water and is probably still too wet to grow well. HEAT will cause plants to wilt- this does not mean they need to be watered. We will have to raise the cost of the garden plots next year to pay for the excessive waste of water. Please use sensible water containers to get water from the tank. One-gallon jugs are too small to be practical. Please use a larger, several-gallon container and wash your hands in the container at your plot while watering your plants.
We are happy to announce that the Fond du Lac Community Gardens is now open. You are welcome to start using your plot immediately if you have paid and signed the waiver on the registration form. Several gardeners were out in their plots prior to the stakes getting numbered…they were reprimanded for not following the rules.
The Current Garden Map, Announcements, Garden Rules, and Newsletters are always available on this webpage.
Please remember your plot numbers are located on the WEST corner stakes on the outer edge of your plot. If it is not a split-plot, the southwest corner will be marked. Your plot will be directly east of the plot marker.
Water is turned on and available, but please bring your own containers to carry it back to your plot. We have a couple of carts available, but they are becoming dilapidated.
With the recent heavy rain, NO driving down the roads please until the puddles are gone. I hope to avoid issues of people driving into the gardens when they were wet, even though I stress that issue every year. To prevent people from driving on the roads following heavy rains, we will be putting up the chains on the roads. DO NOT drive around the chains!
If you are first-time gardeners, please check the garden rules over carefully before entering for the first time (available below in three languages.) For the most part, the rules are all just common sense. We ask everyone who uses string and twine to please remove them once your garden is established. Stay 2 feet away from the edge of your neighbor – leave a walking path.
Another issue that came up again last year- there was a plot that used landscape fabric and did not get it removed at the end of the season. This is very difficult for us to remove to prepare the garden to be plowed in Fall. We are very close to banning use of it completely. Please respect our rules and the other gardeners.
HAPPY GARDENING! Patty
2022 Garden Meeting Notes from Patty
Please read the 2022 Garden Meeting Notes from Patty in the pdf linked here. If you require a printed copy mailed to you, please contact our office at 920-929-3172.
2021 Garden Meeting Notes from Patty
Several people did not follow the rules, so we had to develop a waiver with the registration form. We fashioned it after what other gardens have done with their disclaimer and liability clause. There are also a few new additions to the Garden Guidelines and Regulations Booklet.
Other arrangements will need to be made to pick up your garden map and rules and sign your waiver, so we can get the season off the ground. Additional Community Garden Notes from Patty found here.
Can you explain some of your best gardening tips to beginners? For example, if you want to list five tips or so, and then explain them, that would be great! Whatever, you think will work. How can people go about building a victory garden during this pandemic?
The term comes from WWll. People were encouraged to grow their own vegetables to reduce the pressure on the public food supply and to boost morale. They were called Victory Gardens. Now, with much of the country under quarantine due to the novel coronavirus that will likely last for several more weeks, people are considering this idea for their families.
Building a victory garden can be as simple as planting containers on your patio or deck.
Many people have a large enough area in the front or back yard to make into a garden. The most important factor is to have an area that receives plenty of sunshine! Just till up the grass, and rake out the roots, or just cover an existing space with layers of paper and add wood chips or mulch, and then layer with soil and compost for a raised bed. Raised beds don't necessarily mean you have to build anything. It can be as simple as laying down several layers of paper, wetting them, and layering with mulch or wood chips. The next step is adding soil and compost, and mound it into a berm. The garden we started at Riverside School was just 6 to 8 inches of mushroom compost spread on the boulevard next to the parking lot.
I can supply a list of healthy vegetables that are easy to grow, in the ground or in containers. Contact me on the Extension Fond du Lac Community Gardens website or email patty.percy@wisc.edu. If you have limited space or don't have any sunny areas in your yard, check out the info on how to get a plot in the Community Gardens!
In your opinion why would this be a good activity to start?
Gardening is a great activity for young and old. Even if you only have containers and window boxes, it is a great activity to do with the whole family! Plus it is good therapy! Give the kids their own spot, or container, and have them select what seeds they want to plant from what you have available. I like a mixture of vegetables and flowers or herbs when I plant containers. The trick is knowing the basics for container planting, and knowing the growing conditions of the plants you want to use.
Any questions on best container vegetables, contact me at patty.percy@wisc.edu.
What would you like people to know about gardening?
Gardening is very good for your health in many different ways…
Gardening can help promote healthy eating, especially if you're putting on the table what you have grown in the ground.

Digging in the soil has actual health and 'mood boosting' benefits. C

hildren who are exposed to dirt in the formative years develop healthier, stronger immune systems, and they have a lower incidence of asthma, eczema and allergies later in life, compared to children whose parents keep them squeaky clean.

Gardening is considered a moderate to high-intensity exercise.

Just 30 minutes of moderate-level physical activity a few times a week can prevent and control high blood pressure, reducing the risk of heart disease.

People who spend time working with plants, tend to have better relationships with others. Some research shows gardening can also lower the risk of developing dementia. Plus, you'll soak up plenty of vitamin D, which helps the body absorb calcium.
Is there anything you would like to add?
Extension Fond du Lac County has been promoting gardening in our Community Gardens for many years, which are located on the Frontage Road across from the airport. https://fonddulac.extension.wisc.edu/hort/fond-du-lac-county-community-garden/.
We also have a program for kids in the summer months run by Extension staff and Master Gardener volunteers called Junior Master Gardeners. We teach kids how to garden and how to use the produce they grow in the kitchen. More information may be found at https://fonddulac.extension.wisc.edu/hort/jmg/.

Community Gardens Information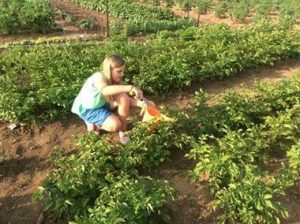 If you are interested in growing your own fresh garden produce but don't have the space where you live, contact Patty Percy, Community Garden coordinator at Extension Fond du Lac County, at 920-929-3172.
The Community Gardens are located on the corner of Grove Street and Pioneer Road (East Frontage Road). There has been an increase in the garden rental fees this year. Please register online or print and send in the registration form below with the updated prices.
Please review the Garden Rules and contact our office if you'd like a printed copy mailed to you.
Registration Information
Rental fees for the entire 2023 season are:
20'x20′ plot: $30.00
20'x40′ plot: $45.00
20'x80′ plot: $75.00
What you receive with the purchase of your garden plot
Land to rent, liability insurance, and water
Upgraded &maintained water lines
Mowed borders to prevent rodents
Port-a-Potty
Free garden seeds, teaching materials, newsletters, and advice
Tilling in the fall & early spring as soil conditions allow
Measured, marked, and monitored plots
Lots of fresh garden produce!
Volunteers who are willing to do some finer tilling in your plots when they are dry enough.
Tom Lewis: 920-979-3810
John Lenz: 920-579-7150
Newsletters (English)
SUMMER 2023 FALL 2022 SUMMER 2022 SPRING 2022
FALL 2021 SUMMER 2021 FALL 2020 SUMMER 2020
FALL 2019 SUMMER 2019 FALL 2018 SUMMER 2018
Plant a Victory Garden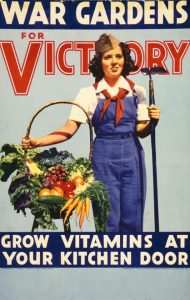 If you are concerned about a shortage of fresh vegetables in your fridge, you might be a prime candidate for the victory garden trend.
Victory gardens first emerged over one hundred years ago during WW I and again during WWII. Americans were urged to contribute to the cause by growing vegetables in every flowerpot and patch of land available.
Neighbors grew different vegetables and shared their produce with each other, and according to the U.S. Department of Agriculture, more than 20 million American homes had a victory garden.
No space in your yard? Not enough sun?
Fond du Lac County Community Gardens has space for you! Even with a small plot, homeowners are able to grow large gardens and reduce the number of trips to the grocery store.
Planting your own garden in late spring is perfect timing with the weather getting warmer, and you can even sow some seeds inside earlier to transplant in the ground later on.
Junior Master Gardener Program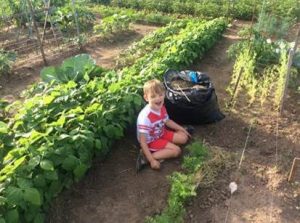 The JMG program is offered by Fond du Lac County Extension. It is a collaboration between the Fond du Lac County Master Gardeners and the FoodWIse Program. FoodWIse is funded by the USDA Supplemental Nutrition Assistance Program – SNAP. SNAP/FoodShare helps families buy the food they need for good health. Visit access.wi.gov to learn how to apply for food assistance or call 1-888-446-1239 (Fond du Lac).
Stay up to date on the latest Extension news, resources, and impacts by signing up for our monthly e-newsletter.
Our Office
UW-Madison Division of Extension
Fond du Lac County
Room 227 Administration/Extension Bldg.
400 University Drive
Fond du Lac, WI 54935-2998
Phone: 920-929-3170
Fax: 920-929-3181
711 for Relay
Hours: M-F 8am – 4:30pm
The office is closed all major holidays and the day after Thanksgiving.
Where we are located
Connect with us