Research shows that youth with a small amount of money saved for higher education, coupled with community support, are more likely to enroll and graduate from post-secondary programs than youth without these savings.
Youth Forward Wisconsin's vision is that 100% of youth will have at least a small amount of money saved for their future education. Supported by UW-Madison Division of Extension and local Extension educators, Youth Forward Wisconsin can give communities the tools to understand and implement a universal child savings account program that fits their needs, and helps their youth reach their full potential.
Are you curious about making a difference in the lives of Fond du Lac County youth? Join informational zooms on December 7th or December 9th to learn more!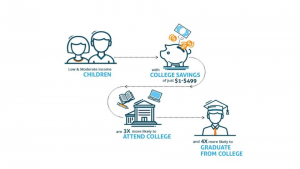 **Wednesday, December 7th from 11 am-noon
Potential Funding Partner Meeting
Many Midwestern communities are investing in their Universal Child Savings Accounts to help students pursue their future dreams. Local examples include Milwaukee, WI and St. Paul, MN. Funders interested in a low-cost, high-impact strategy to attract and retain young families to their communities, improve educational outcomes, and prepare their youth to be the workforce of tomorrow, should attend to learn more!
Registration link: https://go.wisc.edu/qsv2xl
**Wednesday, December 9th from 11 am-noon
Potential Community Outreach Partner Meeting
Outreach professionals who work with youth and families on financial empowerment, positive family functioning, and improving educational outcomes should attend this meeting to learn more!
Registration link: https://go.wisc.edu/e3m67v