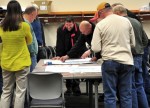 Thank you to all area residents and users of the Lake Winnebago System who "weighed in" this spring on what they thought the most important issues of the system are and what actions are most important to take immediately to improve and protect the lakes.  All responses and discussions have been compiled, and the final report is ready for public review.
Record your reactions to the report.  All responses will be included in an appendix when the report is finalized later this summer.
Application to WDNR for a Phase 2 of this process is underway.  Keep connected and contact UW-Extension for more updates.