4-H Youth from Dodge, Fond du Lac, Manitowoc, and Winnebago Counties participated in the annual Fashion Revue Monday, June 15.  The event was hosted virtually via Zoom due to Covid-19. The youth were able to showcase their sewing skills by modeling during their narratives as they would have done in person.  The judge utilized the breakout room feature on Zoom to provide feedback, ask questions, and chat with each youth after modeling.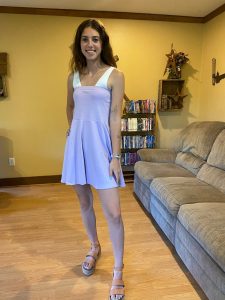 The purpose of the Fashion Revue is for participants to increase their self-confidence and learn how to model the garments that they create. The garments and use are judged on posture, poise, creative selection, care and maintenance, pressing, construction, and workmanship.
Participants modeled their own clothing, adding their own styling and accessories, and several also chose the option to sew a garment for another model as well. Participants created garments for children, sportswear, casual clothing, functional skirts, dressy outfits, semi-formal dresses, a jumpsuit, a crocheted top, and even a werewolf costume.
The judge for this year's event was Heidi Hensel-Buntrock. MC for the event was 4-H alumna Adia Kolell, who was involved in the Fashion Revue for many years. Adia is a 4-H Clothing Project leader and is pursuing her degree in Fashion Design at Mt Mary University.
Pictured is Best of Show winner Brianna B of Fond du Lac County!
Best of Show: 
Dodge- Vivian L, Hyland Prairie
Fond du Lac- Brianna B, Helping Hands
Manitowoc- Clara G, Star Splitters
Winnebago- Judah K, White Cedars
Golden Thread:
Lucy W, Winnebago
Meghan N, Winnebago
Lizzy P, Winnebago
Best Accessorizing: Emily H, Winnebago
Best Coordinated: Eve W, Winnebago
Best Sporty: Titus K, Winnebago
Best Summer Look: Promyse M, Dodge