The Veterans THRIVE Garden received special recognition during the Fond du Lac City Council meeting on January 22. The proclamation recognized the importance of the veteran's garden in the physical and mental health of community members, particularly veterans.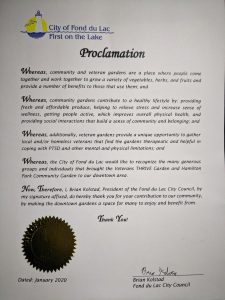 There is mounting scientific evidence in support of horticulture therapy. There had been expressed interest by veterans in Fond du Lac County to participate in gardening as therapy. Community gardens, particularly those located downtown, can address food security, fruit and vegetable consumption, and transportation barriers often associated with more rural gardens.
Amanda Miller (FoodWIse Coordinator and Health & Well-Being Educator) applied and received the 'Growing Together Wisconsin' grant, which brought together FoodWIse, Fond du Lac County Master Gardeners, and Salute the Troops, a local non-profit that provides financial assistance and education to veterans in need. Patty Percy (Community Gardens Coordinator and Master Gardener volunteer) identified the need for a local veterans garden, which helped establish the relationship with Salute the Troops.
In 2018, the grant-funded the creation of a downtown/urban garden (red and blue raised beds in the shape of a U.S. flag) that are accessible to all veterans, including those utilizing a wheelchair. In addition, a lot was dedicated at the Community Gardens to growing produce that was donated to veterans in need.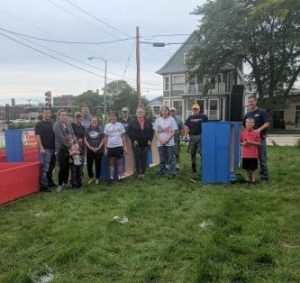 Over the course of 6 workdays, 85 (duplicated) Master Gardener volunteers and veterans in the community dedicated time to building the downtown garden. Five businesses donated to the project. Approximately 300 pounds of produce was harvested and donated to veterans from the Community Gardens plot.
In 2019, Salute the Troops beautified the garden by installing American flag poles and flower boxes.
This project did much more than changing the built physical environment (building a garden). The project began a new partnership between Salute the Troops and UW-Extension Fond du Lac County, built friendships between individuals that have never worked together before, and created a strong sense of community.