UW-Extension Fond du Lac County Dairy & Livestock Agent Tina Kohlman co-developed and co-presented "Mission Possible: Motivational Interviewing for Farm Succession" with Washington/Ozaukee Co Agriculture Educator Steph Plaster at the Wisconsin Farm Succession Professional Network's annual meeting. The presentation w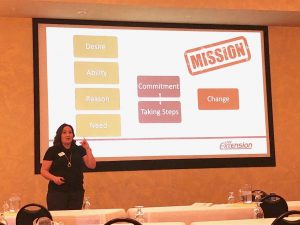 as based on a workshop presented at the 2018 International Farm Transition Network Conference which educators recently attended. Attendees learned how to listen for ques or "DARN" (Desire, Ability, Reason, Need) to determine when an individual is ready to talk about change when it comes to establishing a farm business, estate, retirement, and/or farm succession plan. And, also, how to further the conversation to learn more about the individual's motivation for change through "EARS" (Explore, Affirm, Reflect, Summarize).
Thirty-six farm succession professionals (lenders, bankers, attorneys, accountants, tax professionals, educators, agency staff, consultants, and business advisors) were in attendance and participated in the hands-on activities regarding open-ended questions and listening skills. Based on a post-meeting evaluation, respondents (n=23) ranked the overall professional development opportunity a 4.6 (on a 5-point Likert scale, 1="did not meet the goal at all" to 5="great job at meeting goal"). When asked "What presentations provided useful information?", respondents indicated the following: Motivational Interviewing (17), lessons learned from case studies (10), and WI Farm Center resources (10). One respondent shared: "…all-but thought the motivational interview session was most helpful…"
During debriefing with the audience, the educators led a discussion on how to incorporate this topic in everyday work with farmers and other small businesses. Based on the presentation, two attendees reached out to the educators regarding conducting this presentation for additional farm management and small business audiences.
Following the meeting, an individual from the WI Farm Center, who was in attendance at the meeting, shared "…that [she] would not have been able to work successfully with a client if it wasn't for the communication and listening tools [she] learned…" from the presentation.