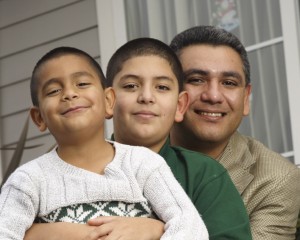 The most recent census recorded a 123% increase in the Latino population in Fond du Lac County between 2000 and 2010. In an effort to learn more about these newcomers, Fond du Lac County held five structured conversations with about 50 Latino residents in the winter of 2012.
The results are presented in this Latino Family Group Interviews report (PDF, 6.8MB, 14 pgs.) which details their thoughts about work, health, transportation, education, cultural understanding, community environment, immigration status, housing, shopping, safety, and access to the internet.
The information collected provides a snap shot of these participants' perspectives and is summarized here for use by local government officials, health care workers, service providers, and area residents seeking a deeper understanding of the lives of Latinos in Fond du Lac County.
For more information and with any questions, please contact Denise Retzleff (Denise.Retzleff@ces.uwex.edu) or Diana Hammer Tscheschlok (diana.hammer@wisc.edu).