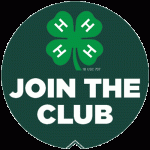 As summer wraps up and fall comes our way, it is a perfect time to join 4-H. 4-H is an educational youth organization for youth in 5K up to one year past high school. 4-H is open to anyone and everyone! Despite what some people think, you don't have to live on a farm or work with animals to be in 4-H. 4-H offers projects from archery and shotgun, to robotics, photography, woodworking, clothing and everything in between. All 4-H projects use an evidence based learn by doing approach.
Our county has 19 different community clubs that meet at different times, days of the week and locations. We encourage you to check out a few different clubs to determine which club best fits your family's needs. Parents and adults are encouraged to stay for the meetings and join in the fun. 4-H is a great way for both youth and adults to make new friends, try new things, and learn new skills.
4-H also offers educational travel experiences to members in grades 6-13. Youth have the opportunity to attend Space Camp in Alabama, National Congress in Georgia, Citizenship Washington Focus in Washington D.C., and more! Visit the WI 4-H website for more information about ways youth can experience Wisconsin and beyond! https://fyi.uwex.edu/wi4hedopp/
Want to learn more? Check out our website at https://fonddulac.uwex.edu/4h/ or contact Amy Mangan-Fischer, Fond du Lac County's 4-H Program Coordinator, at amy.manganfischer@wisc.edu, or call 920-929-3170 for more information.