Fond du Lac County 4-H Youth can experience different education opportunities throughout the state and county. These different experiences teach many different life skills as well as the youth experiencing different cultures. Youth were asked to share their experiences. Youth shared from the New Horizons, American Spirit and Citizenship Washington Focus experiences. The New Horizons experience is a unique educational experience for Fond du Lac County. The group is made up of members in grades 8-12 and 3 adult chaperones. The youth then plan the entire trip start to finish. The American Spirit Trip is a nine-day trip to the east coast. The youth have the opportunity to develop knowledge of America's heritage, citizenship, and leadership. It is also a great opportunity to meet new people, develop leadership and public speaking skills. Citizenship Washington Focus, CWF, is the premier week-long 4-H citizenship and leadership experience. CWF brings 4-H delegations from all over the country to stay in the National 4-H Conference Center in Chevy Chase, Maryland, right outside our Nation's Capital! Participants learn about the roles of Senators and Representatives in the United States' government and how these parts work together to form an effective Congress.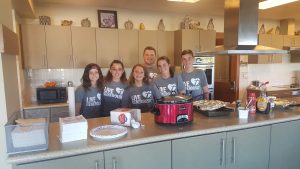 New Horizons Youth Rebecca shares: Every aspect of the trip from where to go, to how to get there, even lodging and meals are decided upon by the participants. This year we choose Colorado as our destination. After our destination was chosen we had to decide what city we were going to stay in, what attractions we wanted to see, and what community service opportunities we would do. We decided to stay in a small town between Colorado Springs and Denver. Some attractions we chose to visit were Pikes Peak, the Cheyenne Mountain Zoo, the U.S. Mint, and the Olympic Training Center. We also did community service and volunteered at 2 food banks, made breakfast at a 2 Ronald McDonald Houses, and helped at a puppy mill rescue. With all these times added together, each individual volunteered for 15 1/2 hours for the 6 days we were there. I, along with every other member who attended this travel experience, would encourage anyone old enough to apply. It is a great learning experience. I know it helped me be more willing to talk in front of people along with learning organization skills and being an all in all better communicator.
American Spirit Youth Connor Shares: The first day we went to Amish Acres. We had a delicious meal, took a tour and learned lots about Amish history and culture. The second day we went to Valley Forge, took a tour and learned lots about General George Washington. Later that night we had an immigration experience where we had a mock of when people would come to America through Ellis Island. The third day we took a tour of downtown Philadelphia and visited many important places such as Independence Hall and the Liberty Bell. We then went to the Empire State Building where we could see out from the lookout deck for miles. Later that night we took a double-decker bus tour around New York City and saw many amazing sights and learned from our tour guide. On day 4 we went to Battery Park and took a ferry ride to Ellis Island and the Statue of Liberty. We then went to the 9/11 memorial site. It was a great and humbling opportunity to see these things. Day 5: We took a tour at the Plymouth Plantation and Plymouth Rock. We went to the ocean and had a great time and saw the USS Constitution where we learned a lot from our tour guide. Day 6: We went to the Lexington and Minute Man Visitor Center and then went out whale watching. It was a great time and we saw 3 different whales, multiple times, and even had a shark sighting! Later that night we had a delicious lobster dinner. Day 7: We had a tour of Boston on the Freedom Trail and had lunch at the Quincy Market. We then headed to Fenway Park and saw the amazing stadium and had a pizza party at night. Day 8: We crossed the border into Canada. We went to Old Fort Erie and then to Niagara Falls to go on a hornblower tour. We went to a dinner theatre to watch a show and have a great meal and then headed back to see Niagara Falls light and firework show in the dark.
I recommend this trip to anyone. It was a great experience where we tried lots of new things and met many new friends. I created many memories. My favorites were the Fenway Park tour and lobster dinner.
Citizenship Washington Focus Youth Andrea Shares: This past July, I traveled to Washington D.C. as a delegate on Citizenship Washington Focus Week 6. During this event, I learned about our government through workshops that involved the bill writing process. In the bill writing workshops, teams drafted a bill about minimum wage, food insecurity, self-driving cars, or animal welfare. One bill was chosen from each category to go to debate and comments, a congressional whip session, and a voting session. This was a realistic workshop where we learned what happens in the bill making process. We also had the opportunity to meet with our Senators Tammy Baldwin and Ron Johnson. We were able to ask them questions about various issues in our state and country. We also visited some of D.C.'s historic landmarks including Mount Vernon, Arlington National Cemetery, the Tomb of the Unknowns, the Capitol Building, and the National Cathedral. One of my favorite parts of the trip was being able to visit the memorials in D.C. and receive background information on them from our Program Assistants. Some of the memorials that I experienced were the WW2 memorial, the Korean War memorial, the FDR memorial, the Marine Corps or Iwo Jima memorial, and the Vietnam Veterans Memorial. CWF also had an event called community action planning. My group from Southeastern Wisconsin received a $500 grant for our community service project that includes a drive for hats, gloves, scarves, and blankets for the homeless population in Milwaukee.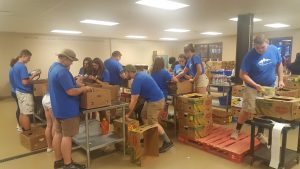 Through this experience, I was able to meet many people from around the state of Wisconsin and from around the country. I was able to make lasting friendships with the other delegates, the Adult Advisors, and the Program Assistants.
I highly encourage everyone to apply for these trips and if you have any questions do not hesitate to ask me, other members, those who have been on these experiences, your general leader, or the extension office. I would like to express my gratitude for the opportunity to learn and experience the upper east coast through the American Spirit and Washington D.C. through CWF. I was able to see so much of American history and learn about our government. These opportunities made me a better role model for my club and community, and will better prepare me for being a leader in our world.