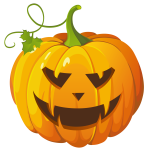 Attention Cloverbud member and parents! The annual 2018 Pumpkin Contest will be held on Sat. Oct 20th at Hounsell's Greenhouse, located 1½ miles north of Fond du Lac on Highway 45. Check-in and weigh-in of pumpkins is from 12:30 to 1 pm.
This past spring, Hounsell's donated pumpkin seeds to our Cloverbud members and now it's time to see how they did! Pumpkins that Cloverbuds have grown themselves will be judged in categories of size, shape, and color. Cloverbuds that did not grow a pumpkin, can paint a pumpkin and bring that to the contest! The categories of painted pumpkins are: scariest, funniest, most colorful, most unique and best use of 4-H theme.
Each Cloverbud member may bring one pumpkin to the contest to be judged. Don't miss this fun fall event!