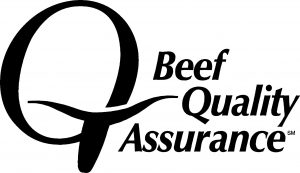 Beef quality assurance is a farmer driven program in which cattle farmers assume responsibility for producing a high quality, safe, and wholesome food product. Farmers keep detailed records of animal husbandry practices and all animal health treatments performed on their cattle. They also assure their best management practices in management, animal husbandry, and animal health meet regulatory and industry standards.
As of January 1, 2019, major processors Cargill and Tyson are requiring farmers who they purchase cattle from become BQA certified. To assist in this emerging issue, Dairy & Livestock Agent Tina Kohlman partnered with Equity Livestock-Lomira to host a training program for 66 beef and dairy farmers. As a result of the program, respondents (n-54) to a post-meeting evaluation indicated they increased their knowledge 0.8 points (on a scale of one to 5, 5 being excellent and 1 being poor) in the areas of use of beef check-off dollars; consumer perception of beef production; care and husbandry practices; feedstuffs; feed additives and medication; and injectable animal health products. When asked "what management practice(s) do you expect to add or change because of what you learned?", respondents indicated:
Use of plywood on gates when treating animals
Read your labels
Do a better job administering drugs
Better drug treatment records (more information) (5)
Feedstuffs testing (nutrients)
Improve cattle handling, make gate solid, less shocker paddle
To maintain their opportunities for markets when selling cattle to processors as well as learn more about best management practices in producing meat, farmers are encouraged to become BQA certified. Certification is good for three years. Farmers can meet the BQA Certification requirements in three ways:
BQA Certification Training (in-person) conducted by a trained individual
BQA Certification Training (on-line)
National Dairy FARM 3.0 Certified (since January 1, 2017) with a dairy processor (dairy producers only)
For more information on BQA Certification, or meat quality assurance, please contact UW-Extension Fond du Lac County.