January 28, 2016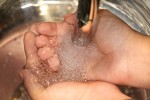 Arsenic is a naturally-occurring mineral found in bedrock layers. Recent well water sampling programs in the Towns of Lamartine and Osceola found arsenic detects at a rate slightly higher than the state average. The EPA recommends avoiding long-term consumption of drinking water containing arsenic at a higher level than .01 mg/L (10 ppb). Drinking water with high levels of arsenic is thought to increase the risk of skin cancers as well as lung, liver, bladder, kidney, and colon cancers, circulatory disorders, stomach pain, nausea, diarrhea, and unusual skin pigmentation.
While arsenic is now required to be tested after any well or pump work, the majority of existing wells probably have not been checked for arsenic.  If you are unsure if your well has been tested for arsenic – or simply can't remember the result – you may want to consider this on your list of things to do.  When arsenic is present at any level, it is recommended that the well be sampled occasionally to see if arsenic levels may be changing over time.
Fond du Lac is fortunate to have completed extensive well testing across the county.  These efforts reveal that out of 918 well samples analyzed from 2001 thru 2015 from Fond du Lac county, approximately six percent of samples showed levels of arsenic above that recommended for drinking water.  This is slightly higher than the approximately three percent of samples statewide that exceed the standard for arsenic.
Fond du Lac County residents may find it convenient to sample for arsenic through these state certified labs in our region.  All labs when contacted by UW-Extension stated that sample bottles could be mailed. Contact the labs individually to confirm prices, sampling procedure, and amount of time the analysis takes.  Typical charges for an arsenic test will be less than $40.
UW-Extension Water and Environmental Analysis Lab(This is the lab we use for the town-wide sampling) 800 Reserve St., Stevens Point, WI 54481  Phone:  715/346-4270  Arsenic included in the Metals Package:  Arsenic, Calcium, Copper, Iron, Lead, Magnesium, Manganese, Potassium, Sodium, Total Sulfur (S04), and Zinc.

Badger Labs:

501 Bell St.

Neenah, WI   54956-1392

Phone:  920/729-1100

Clean Water Testing:  

1990 Prospect Ct, Appleton, WI 54914

Phone:  920/733-7590

Northern Lakes:  

400 North Lake Ave.

Crandon, WI 54520-1286

Phone:  715/478-2777

WI State Lab of Hygiene:  

2601 Agricultural Dr.

Madison, WI 53718

Phone:  608/224-6202
If arsenic is found above recommended levels there are a few options to reduce risks when using water for drinking.  Arsenic can be removed from well water using: 1)Water Softener + Reverse Osmosis or 2) Iron Filter + Reverse Osmosis. Residents may also choose to avoid drinking well water by using bottled water instead. Filters installed on the faucet or pitcher-type water filters DO NOT remove arsenic.
If chooosing treatment, UW-Extension encourages well owners to choose a state-approved water treatment device known to be effective at removing the contaminant identified. Visit the WI Department of Safety and Professional Services to find approved water treatment devices.
More information about arsenic can be found at:
Arsenic in Your Well Water: Understanding Your Test Results (WI Dept. of Health Services)
Arsenic In Drinking Water (WI Dept. of Natural Resources)
Arsenic In Your Drinking Water (EPA)