On Saturday, February 22nd Fond du Lac County 4-H held its Family Learning Day event.  125 youth from around the area were able to choose from 33 different educational sessions.  Parents were encouraged to participate in sessions along with their children.  These educational sessions were led by 50 different community members and 4-H volunteers.  Youth and adults learning new skills such as sewing Barbie blankets, decorating with Fondant, how to churn butter, woodworking, how to take better care of your cat, how to identify different animal tracks, painting, and so much more.  Adults interested in becoming a 4-H volunteer could be trained during this day also. 
Many of the youth co-led sessions as well as attending.  Here is what the youth and adults had to say about their experiences throughout the day:
"Glass painting was very fun.  I like the way you had us choose what we could do."- a youth participant from glass painting session
"I really liked vet science. It taught me a lot about animals I didn't know a lot about. "- a youth participant in vet science session
"I really enjoyed the Jellyfish painting class.  It was something I had never done before and I would definitely do it again!"-a youth participant from Jellyfish painting session
"This was a fun experience.  I'm glad I took this class."- youth participant in wildlife session

"I had a great time trying something new.  It was very fun"- a youth participant from corsage making session
"I liked that we got to make a tool that helps you take off your shoe."- a youth participant in woodworking session
"Butter churning proved to be super fun.  It was perfect because of the level of hands-on activities."- a youth participant from Butter churning session
"I never worked with Fondant before.  I enjoyed it.  Thank you!"- An adult from fun with Fondant session
"I observed my two daughters.  Appreciated the small class; 1:4 ratio.  As a parent who struggles with sewing, it was WONDERFUL to provide my children with the opportunity to learn.  I watched my daughters gain skills and confidence.  Thank you for your time and for coming to teach at Family Learning Day!"- An adult from 10min Table Runner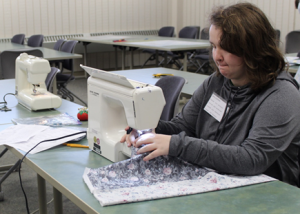 This is just a small sample of the impact on youth and adults Family Learning Day had.