Fond du Lac County
4-H
400 University Drive
Fond du Lac, WI 54935
Telephone: (920)929-3170
711 for Relay
Fax: (920)929-3181
4-H Staff
Tracy Keifenheim
4-H Program Coordinator
Tina Engelhardt
4-H Program Assistant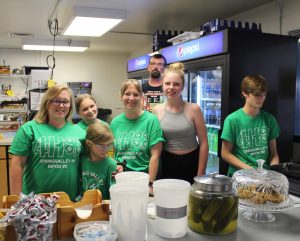 Table of Contents
Annual Club Volunteer Training
All 4-H Chartered clubs and groups need to have at least one adult volunteer attend Annual Volunteer Training. All adults and youth leaders are encouraged to attend.
Club Officer Information
One of the requirements of a 4-H Club is to have youth involvement in leadership and decision-making. As a club office you will gain life skills of decision making, problem solving, responsibility, teamwork, leading groups, conflict resolution and more. Specific information about each officer role is available at the Wisconsin 4-H Community Club Central.
Secretary, Reporter, and Historian Forms
All secretary minutes and reporter updates can be emailed to Tracy Keifenheim at the Extension Office. Information received by the 15th of each month will be highlighted in the Family Times 4-H Newsletter in the following month.
Treasurer Forms
Club and Committee Charters
4-H Clubs and committees handling finances must have a 4-H charter, which must be renewed annually. The 4-H Charter formally recognizes a group's affiliation with 4-H and grants the group permission to use the 4-H Name and Emblem. Complete details are available at the Wisconsin 4-H Community Club Central.
Health and Photo Forms
Many county, state, and national 4-H events require a health form to enable staff and volunteers to provide basic first aid, respond to medical emergencies, and provide accommodations for youth participants. Use this form for events, when required.
Permission needs to be granted from parents to use photos and comments of minors for UW-Extension reports, articles, and publications designed for educational, information, and promotional purposes.



4-H Members Have Accident Policy Coverage
Each member is covered by accident insurance. Clubs are billed for this annually. The American Income Life 4-H annual group accident policy covers individual 4-H clubs and country wide programs.
Plan Highlights
Includes incurred medical and surgical treatment, X-rays, hospital confinement, and ambulance expense up to the maximum amount
Covers dental services incurred within 52 weeks of the accident
Provides a benefit if death occurs as a result of an accident within 100 days of the accident
Covers loss of limbs up to a set amount
Optional volunteer leader coverage available. – Clubs pay for this coverage if requested.
If a member is injured a claim form needs to be completed. The form is available at https://www.ailife.com/SpecialRiskDivision/Claims. Additionally, the adult in charge of the event should contact Tracy Keifenheim at the Extension office to get the form processed.