Table of Contents

County 4-H Mission
Fond du Lac County 4-H: Enriching youth, families, and communities through citizenship, leadership, and life skill experiences.
County 4-H Values
We value…
Fun
Honesty & Integrity
Responsibility
Teamwork
Leadership
Politeness
Learning
4-H Pledge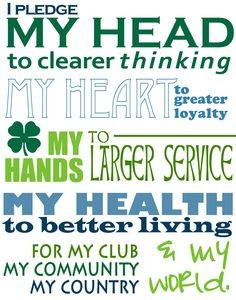 4-H Motto
To make the best better.
4-H Emblem
The 4-H clover is known by all 4-H members throughout the world. Clubs are encouraged to use the clover when printing handouts, flyers, agendas, and designs for shirts. Follow the national guidelines when using the 4-H clover.
4-H develops life skills to help youth have a productive and successful life.
Fond du Lac County 4-H Clubs
4-H Club Listing: Location, Meeting Date/Time, and Leader Contact Info