4-H Youth from Calumet, Dodge, Fond du Lac, Manitowoc, Washington, and Winnebago Counties participated in the annual Fashion Revue Monday, June 13.  The event was hosted in person by Extension Fond du Lac County. Eleven youth from throughout these counties participated by modeling their own sewn garments and even purchases they have made under the Consumer Savvy category.  All youth K5-13th grade are eligible to participate.
The purpose of the Fashion Review is for participants to increase their self-confidence and learn how to model the garments that they create and accessorize.  They also learn to explain the construction and care of their garments as they meet with a judge face to face.  The youth and their garments are judged on posture, poise, creative selection, care, pressing, and construction.
Participants modeled their own clothing, adding their own styling and accessories, and several also chose the option to sew a garment for another model as well. Participants created garments for sportswear, casual clothing, dressy outfits, semi-formal dresses, a jumpsuit, a crocheted top, and so much more.
The judge for this year's event was Heidi Hensel-Buntrock. MC for the event was 4-H alumna Adia Kolell, who was involved in the Fashion Revue for many years. All youth participants were awarded ribbons and given their judging score sheet so they knew which areas to work on and which they excelled in.
Pictured is Jolin S of Fond du Lac County!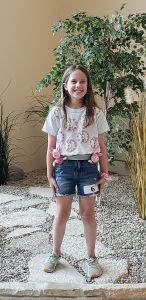 Best of Show: 
Consumer Savvy: Lucy W, Winnebago
Sewn Garment: Emily H, Winnebago
Golden Thread:
Bethany T, Dodge
Gabby H, Winnebago