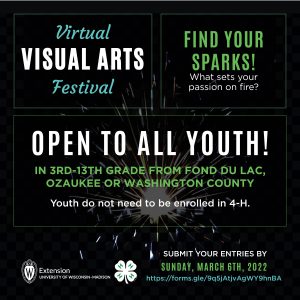 We are seeking youth artists looking for an opportunity to share their artwork with the community, receive feedback on your work, and meet with art professionals? The 2022 Tri-County 4-H Visual Arts Festival is something you are not going to want to miss! New this year we are offering a traveling exhibition opportunity for youth to have their art show cased in the three counties.  Selections will be based on youth's permission, space available, and connection to theme. Details if selected will be communicated later.
Youth in grades 3-13 from Washington, Ozaukee, and Fond du Lac Counties are invited to participate in this fun, free virtual event. This event is sponsored by 4-H, however, youth are not required to be registered in the Wisconsin 4-H program to participate. The theme is "Find your Sparks" with a focus on two-dimensional art. Everybody has a skill, a talent, an interest, or a special quality that they are passionate about. We call these things SPARKS. They provide joy, purpose, and direction. They come from deep within and provide energy, joy, purpose, and direction in one's life. There are four categories for submission: drawing, painting, photography, and other media. Online submissions are due Sunday, March 6th by 11:59 pm. Multiple submissions are accepted. Prizes will be awarded for each category. 
The virtual, interactive portion of the 2022 Tri-County 4-H Visual Arts Festival will be held Saturday, April 9th, 2021. Attendance in the virtual event is not required to receive a prize. Youth will be able to meet with judges virtually to ask questions and receive feedback if they chose to participate.
This event has been planned by each of the three participating counties.
To submit your artwork, visit https://fonddulac.extension.wisc.edu/events-activities/. Have questions, contact Educator Tracy Keifenheim, 4-H Program Educator at (920) 929-3171 or tracy.keifenheim@wisc.edu.