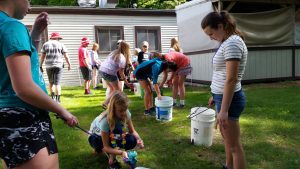 4-H Camp has been a long-standing tradition in Fond du Lac County. Some of the volunteers have been serving the youth that attend camp for over 20 years. I have been a part of camp for about 9 years. I started attending as a camper in 2008. I skipped a year, but I returned as a counselor. As a camper, I learned to work with the other girls in my cabin and to accept the differences of others since I was meeting people from all over the county. Being a counselor taught me to be a leader and to solve conflicts between the campers. I dealt with girls who were homesick and girls that didn't necessarily see eye to eye. The following two years, I was the Youth Director for camp. I learned how to plan and organize an event as large as camp and keep things running smoothly. I had to have motivation and discipline to help put things together outside of school and other extra-curricular activities. Now, I attend camp as an adult volunteer and this past year, the 4-H Coordinator. I have to cooperate with our adult team and our counselor team in order to ensure that camp takes off. It is a lot of responsibility, but I wouldn't change a thing. The life skills that I have learned are invaluable. I can only hope that the campers take away just one skill that they will use later in life.
Camp occurs in early June each summer at Camp Sinawa in Valders. It is 4 days, and the campers make crafts, swim, go canoeing, play organized games, participate in all camp activities, and eat nutritious, balanced meals. Campers learn how to be away from home, possibly for the first time, and they learn how to make decisions about what activities to participate in. The counselors and adults teach them to be safe as they go on their camp journeys. They build relationships with their counselor, the adults, and with other campers. The friendships that are formed at camp last a lifetime, and the volunteer team gets good feedback about camp each year.
Speaking of volunteer teams, I work with an amazing one. The 4-H adult volunteers who help with camp work very hard to keep the cost of camp down so that anyone can attend, and they make sure that camp is a high quality experience for the campers. We serve food that is made fresh daily for the campers, and we provide crafts for them to be able to show at the fair. Fond du Lac County 4-H Camp invites members of the Boys and Girls Club and community youth to attend camp in addition to 4-H members. We are accessible and inclusive to anyone who would like to come. Camp is just one of the amazing opportunities offered by Fond du Lac County 4-H. Everyone from the adults to the counselors to the campers are constantly learning and building their skills in many of the different areas that 4-H emphasizes, whether they know it or not. This is truly a one-of-a-kind camp, and I am thankful to have been a part of making it a successful endeavor each year.