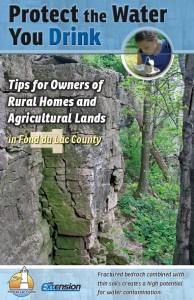 Now there is an educational booklet specifically for private well water users in Fond du Lac County.
The booklet was developed in 2010 by UW-Extension, WDNR, and Fond du Lac County.
Protect the Water You Drink – 2010 (PDF, 9 pgs)
A paper copy of the booklet and more information on county water quality can be found at the City/County Government Building from the County Code Enforcement or Health Departments (160 S. Macy, Fond du Lac), at the Land & Water Conservation office (W6529 Forest Ave. Fond du Lac), or from UW-Extension.