How to Become A Master Gardener
When making the commitment to become a certified Master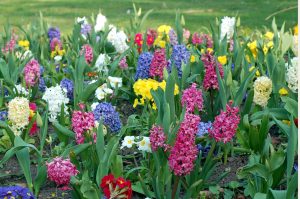 Gardener, you join a group of individuals who are passionate about horticulture AND are willing to share their passion with other people. Fond du Lac County Master Gardeners help to landscape schools, community parks, and other public areas. Further, they assist the UW-Madison Extension office in providing research-based horticultural information to the general public. As a Master Gardener, you have the opportunity to participate in numerous educational programs throughout the year and receive a horticultural newsletter from the Wisconsin Master Gardener Association.
Master Gardener Level One Training  
At this time, there are no Fond du Lac County Master Gardener Level One classes scheduled. When scheduled, all meetings will be held in the Administration/Extension Building of the UW-Oshkosh Fond du Lac campus.
Participants in Level One learn basics about a variety of gardening themes such as managing trees and shrubs, lawns, landscape plants, fruit crops, and vegetables. Members of the Master Gardener Association will teach and mentor students at each meeting.
The program cost includes a manual and membership into the local association for one year. Need-based financial assistance is available upon request.
Applicants to the program must consent to a criminal background check and sign the volunteer agreement before acceptance into the program. Previous gardening experience is not necessary.
Participants who complete the training are expected to use what they learn in 24 hours of volunteer service in the coming year with the Master Gardener Association and UW-Madison Extension. Current volunteers provide horticultural information, services, and education to Fond du Lac County residents in a variety of settings and formats. A list of current projects is available online at https://fonddulac.extension.wisc.edu/hort/mg/projects/. New project ideas are always welcome and considered.
An AA/EEO employer, Division of Extension provides equal opportunities in employment and programming, including Title VI, Title IX, and ADA requirements. Requests for reasonable accommodations to ensure equal access to this program should be made as early as possible.
Master Gardener Volunteer Certification
We encourage everyone to become a Certified Master Gardener Volunteer. Every year you need to complete 24 hours of volunteer work. To maintain Certified Master Gardener Volunteer status, an individual must complete 24 hours of volunteer work and 10 hours of continuing education .
Please check out our Projects and Calendar for volunteer opportunities and feel free to contact us for further information.
Continuing education hours can be obtained by going to horticulture seminars, listening to WI Public Radio's Garden Talk (Friday-11:00 a.m. and Sunday-7 a.m.) or watch WI Public Television's, WI Gardener (check your local listings).
Volunteer Hours Time Sheet is due by OCTOBER 1.  Annual dues of $10.00, which includes membership in the Wisconsin Master Gardener Association and the Fond du Lac County Master Gardener Association.