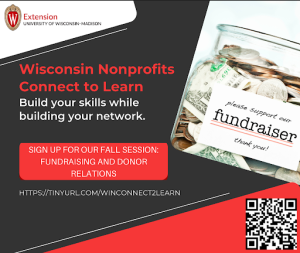 Wisconsin Nonprofits Connect to Learn is a new program designed to support nonprofit professionals and those who run community organizations on some of the topics most important to achieving their mission. The second mini-course of the series, "Fundraising and Donor Relations," begins October 12 and registrations are currently open.
One of the unique features of this program is that it is focused on building a peer network while building some of the most asked-for skills. These workshops foster collaboration and co-creation through peer learning and network building.
There are more offerings during 2022-2023. Sign up for an individual offering, or all – there is no requirement to sign up for the entire series. Each offering is $75 (scholarships available).
Fall 2022: Fundraising and Donor Relations (starts October 12)

Winter 2023: Telling Your Story Effectively (starts in February 2023)

Spring 2023: Leadership & Organizational Culture (starts in April 2023)