Extension's Farm Tractor & Machinery Safety Certification Training provides an opportunity for youth ages 12 to 15 to become certified to drive a tractor on road.  The 24-hour program meets the requirements of Wisconsin Act 455, which requires youth under the age of 16 to hold a certificate of training in order to operate a tractor or self-propelled implement of husbandry on a public road. It also meets the child labor requirements in agriculture under the Fair Labor Standards Act, pertaining to the employment of youth ages 14-15 on farms not operated by their parents or guardians.
Due to COVID-19, the Extension Fond du Lac & Washington Counties partnered with Campbellsport High School FFA to offer a modified, virtual tractor safety training to meet CDC, federal, state, and university COVID 19 physical distancing guidance.  The virtual program requirements for certification to meet the 24 hours included: 
8 hours            One-hour Virtual Classroom Sessions (offered twice a week for four weeks)
8 hours            Hours spent reading the manual and completing class assignments
4 hours            Hours spent practice driving at home with your  parent/guardian/supervisor
2 hours            One in-person session with the written and driving exam
Each one-hour virtual classroom session was split into three 15-minute sections covering various topics from the workbook.  Guest speakers including local farmers and extension safety specialists were invited to join via Zoom to discuss specific topics.  Before each session, youth were assigned chapters from the book to be prepared for each class. Topics included in the training were:
Hazardous Occupation Order in Agriculture
Maintenance and Safety
Instrument and Controls
Tractor Hitches – PTO – Hydraulics
Operating the Tractor on Public Roads
Volunteers for the driving exam included FFA Advisors from Campbellsport, Lomira, Oakfield, and New Holstein High Schools, with tractors provided by Gellings Implement.  Eden Community Center graciously provided their parking lot for the driving test portion and their lawn to provide a spacious area for youth to physically distance themselves in lawn chairs provided by themselves to complete the written exam.
Looking for information to review farm tractor and machinery safety best practices on the farm with family members and employees?  Check out these resources: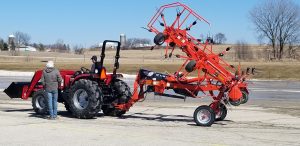 (Photo Credit:  T. Kohlman, 2019 Youth Tractor & Machinery Certification Training).